By Jackie Ranken | June 1, 2022
This is part two of a two-part series on creative photography techniques. You can see the first part, from last week, here.
Shoot the same object creatively
For the past five years I've had the same branch I traveled with pinned on my wall because I still really like the way it looks. During the confinement of 2020, I was inspired to make other images.
I took it to the garage to photograph it with pieces of wood that I had also taken a liking to from our woodpile. I did a lot of new still life experiments during the lockdown. A lot of them didn't make it, but the ones that did make me happy.
For the first image here, I laid a black velvet background on the floor and creased it slightly so it looks like a landscape. Then I added the block of wood with the beech branch glued to the top. While shooting, I regularly checked my exposure to make sure the black velvet wasn't overexposing. You may need to set your auto exposure setting to -1.5 exposure compensation, as the correct exposure is for the highlights in the branch.
After an initial squaring crop and cleaning up the smudges and dust I found on the black velvet, I simply reversed the tones to negative in Photoshop. This made a high quality work of art, which I have now printed and coated in encaustic wax.
Make multiple exposure in camera
One of my favorite techniques for playing with multiple exposures in camera. Almost all modern digital cameras offer this feature, and I like the variations that can be made using the different blending modes of brighten, darken, additive and average while taking up to nine images which overlap. My favorite option is average mode where two images are averaged together (black and white will make a gray). You can also select any RAW image on your card and use it for a new multiple exposure idea.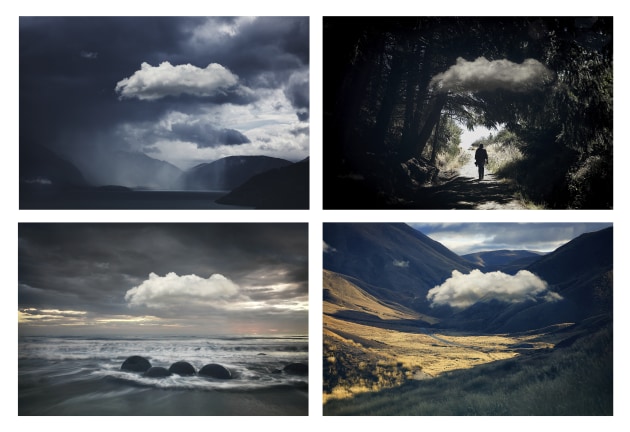 In practice, it is relatively simple. Think of an idea, get a good exposure and turn on multiple exposure mode, then select "Medium". From there, scroll through the files on the card to find the correct image, select it, then activate Live View mode to align the cloud with the current image in front of you.
That's what I did with my series called #Rankencloud. With my Canon 5D MK IV, I repeatedly selected a file from a cloud on my camera's SD card. Whenever I wanted to use the cloud, I inserted that particular SD card into my camera and took the shot. Then, so as not to fill the card with other images, I exchange it again with the original card. For more detailed information on in-camera multiple exposures, see your camera's manual. ❂
About the Author: Jackie Ranken is a multi-award winning Australian-born landscape/art photographer who has lived in New Zealand since 2004. She has over thirty-five years of experience in the visual arts and has been a judge of international awards since 2002.
She combines her artistic practice with teaching and is a presenter in workshops and seminars internationally. Her passion is creating multi-leveled narratives through multiple exposures behind closed doors and intentional movements. Allowing playfulness and serendipity into his creative process gives him the personal freedom to break the rules and push the so-called boundaries of traditional image-making processes.
Since 2001, she has won numerous prestigious photography awards which culminated in making her a Grand Master of the Australian and New Zealand Institutes of Professional Photography. She is a Canon Master and an EIZO Ambassador. See more at qccp.co.nz.